And, yes, you will now be singing that song all day. You're welcome. :)

The most common question we get right now is whether or not we're hoping for a little boy or a little girl.  And we always say the same thing…
We want a healthy baby.
And that is entirely, 100% true.  We have no official preference on gender (or race for that matter).  But it's also kind of a cliche, and it's what every expectant parent in the world will tell you.  But I am here to tell you the truth.
Every single parent in the world is a liar.  
Of course they want a healthy baby – they're being honest about that.  But, on some level, they have a preference or an image of what the nursery will look like, decorated with trucks and tractors or butterflies and flowers.  And I'm no different; health is numero uno, but I do have my fingers crossed a little bit.
I am here to come clean and say that I sorta hope we have a girl.
Of course, as I stated above, health is our first priority as we move forward.  We're also more concerned about finding a birth mother we connect with, having a smooth pregnancy, a healthy birth and then an uneventful adoption.  That's the important stuff.  But, if the universe wanted to throw me an additional fist bump, how about a little girl?
And don't get me wrong — raising Dare Devil has been the most incredible experience in the history of ever.  We've been able to see the world through the eyes of a little boy, and how everything in our home is essentially a platform for him to dive off of.  We've seen how bugs are awesome and farts and burps are pretty much the most hilarious things in the world.  Dare Devil is kind, loving, relaxed, fearless, ornery and sheer perfection.  He is the epitome of a little boy, and he is, without a doubt, the greatest blessing in our lives.
But you know what he's not?
He's not okay with wearing gigantic bows on his head and adorable tutu-dress hybrids.  Fun sucker.
As much as I love being a Daddy to an ornery, train-and-truck-loving, muscle-flexing little man, who loves to 'rassle and rough house, I do secretly hope that I get the opportunity to braid hair — to dress a little girl up in ridiculously over-the-top outfits that she'll hate me for later in life.  Example:
I want to be able to say, "You have to wear that gigantic bow because it goes with those ridiculous ruffle pants — THAT'S WHY!"  I want to be able to pick out birthday and Christmas presents, knowing that they'll be used for something other than a crash victim with DD's trains, cars or blocks.  I want to go into the 75% of the children's clothing section where the cute stuff lives, and not be exiled into the 25% that is comprised of shorts, polos and t-shirts.  I want to do pigtails, that look totally awful and lopsided.
I want to have a Daddy's girl.  I want to protect her, to support her and to encourage her to be an independent woman who knows that she's in control of her destiny, no matter what path she may choose for herself.  I want to carefully plan ways to intimidate suitors with DD, that may, or may not, involve scorpions and Icy Hot.  I want to use shoe polish on my face and dress in all black on prom night, so I can easily blend into the shadows as I stalk her and her date, fully prepared to bear mace that hormonal teenage boy (or girl) at the first sign of inappropriate intentions.
I want to be able to yell, "be more Mandy Moore and less Britney Spears, young lady!" and have it go completely over her head, because I am old and uncool.
I want to walk my daughter down the aisle, with Jeremy on the other side, tripping over her dress because he's crying so hard he can't see where he's going.
Hi.
My name is Ryan, and I sorta want to have a little girl, if it's in the cards.
Of course, if we are matched with our birth mom and we find out we are having another little boy, I will in no way feel cheated or disappointed.
Having a child is a miracle, and an especially huge miracle for Jeremy and I.  It would be pretty neat to have a little girl, to have those experiences and to see the world through her eyes.  But, at the same time, how awesome would it be to have a house full of little men, playing Legos and comparing burps, scraped knees and arguing over who caught the biggest bug?  Way awesome, I say.
At the end of the day, all that matters to us is that — wait for it — we have a healthy baby.  :)  If we have another boy, I will gladly change over from pinning gigantic hair bows on Pinterest to pinning cute little knit caps, with attached beards.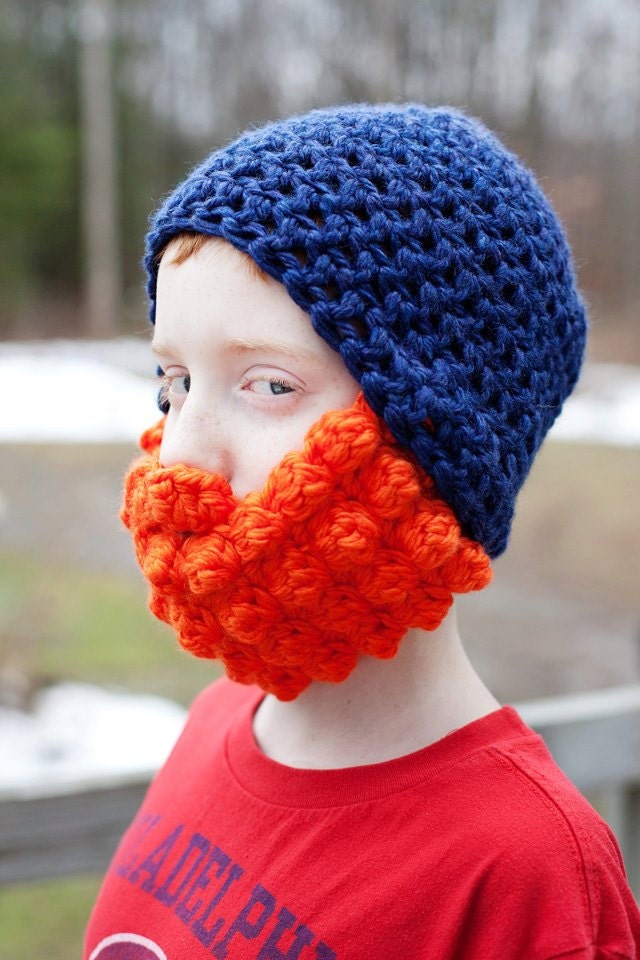 Because that's what normal parents do.